Dwellings Custom Homes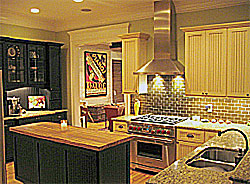 FOR CHRIS MILLIGAN, EACH NEW project is a blank canvas, a chance to use his education, his experience and his creativity to paint the perfect picture for his clients in the home-building business.
Milligan, the owner of Dwellings Custom Homes in Mount Pleasant, South Carolina, earned his degree at Auburn University-s School of Architectural Design. He gained his experience in the construction business from the ground up, working his way through school by spending his summer vacations as a carpenter, gaining "a feel for how houses are really built." His creativity is a product of how much he enjoys his work.
"I love to be creative in designing as well as building homes," he says. "It gives us the opportunity to explore different ideas in each individual house.
" Chris- wife, Christy, helps with both exterior and interior design. She works closely with clients to help them choose colors, tile, plumbing and lighting fixtures.
Most of the work on Dwellings homes is done by the same subcontractors, and, if necessary, Chris will return to his roots.
"If something has to get done, I-ll pull out my tools and get it done," he comments.
Chris launched Dwellings Custom Homes in 2003. After graduating from Auburn, he continued to work as a carpenter for a year-and-a-half, then spent four years as a job superintendent with an Atlanta construction company. He later worked as a construction/development manager for an Atlanta-based development company that was building town homes and developing single-family residences in the Charleston area before starting his own business.
Early on, Chris concentrated on renovation work, but today the company does 90 percent of its business in the new-home market, mostly in Hibben at Belle Hall Plantation, Park West and Dunes West. He builds around four to six houses a year, generally between 2,100 square feet and 6,700 square feet.
"We take a traditional Lowcountry house and add a little flair to it," he says. "It-s hard for us to build a house without putting our own thumb print on it."
Though Chris designs about half of what his company builds, he enjoys working with outside architects, commenting that he loves "seeing comdifferent ideas and styles of design."
"Our clients know generally what they want, and we work with them to design the house, from concept to implementation to completion," he adds.
He explains that there are advantages to designing and building a house. For example, he and his clients can tweak the design during the construction process.
"A house is the biggest investment most people will make," he comments. "We design and construct the house around your personality. The end result is that the house we build for you defines your outlook on life."